Santa's Collection Bow Trio Set
---
or make 4 interest-free payments of
$4.75
fortnightly with
More info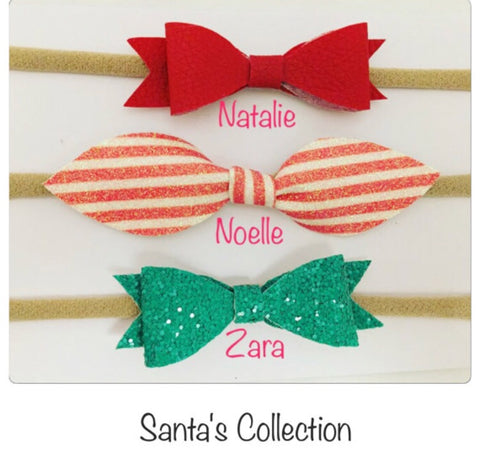 Gorgeous Christmas inspired Bow Headbands for the little loves in your life. The perfect hair accessory to complete their Christmas Day, Santa Photo and festive season outfits.
The Santa Collection includes:
• 1 x 'Natalie' Red Leatherette Bow Tie Headband
• 1 x 'Noelle' Candy Cane Red & White Stripe Fine Glitter Bow Knot Headband
• 1 x 'Zara' Aqua Green Chunky Glitter Bow Tie Headband
Each piece has been lovingly handmade, named and tied to the softest of nude colour nylon headbands.
MATERIALS
Our Nylon headbands are:
• One size fits all - from newborn to adults
• Nylon lycra material that will not ladder
• Approximately 7mm wide and 25cm in total length before stretching (please note there is some slight variation in the starting length however these bands are very soft and will stretch to fill all sizes)
The'Natalie' bow tie is made from premium strong yet soft thin faux leather (PU Leather).
The 'Noelle' bow knot is made from premium non shed thin glitter fabric.
The 'Zara' bow tie is made from premium non shed chunky glitter fabric.
Each bow is lightweight and suitable for even newborn fashionistas.
PLEASE NOTE
Please note that it is sometimes hard to capture the exact colours and details of our premium fabrics used to create these head pieces with a photograph alone. Please keep in mind that colours may vary slightly from advertised photographs to the actual product you receive.
Do not allow babies/children to sleep with head pieces on. All glitter fabrics are non shed but may scratch if rubbed directly onto childs skin.

DIMENSIONS
Our bows measure approximately:
• Bow Tie Style: L - 7.5cm / W - 2.5cm
• Bow Knot Style: L - 10cm / W - 3cm
ABOUT US
Realm Decor - a little boutique kingdom of luxury handmade items for your home and little loves.
We believe our home is our own personal kingdom. A safe haven filled with pieces that help to inspire, nurture and enrich your senses.
We are lovers of handmade, small business and big dreams.
Our little kingdom, based on the Central Coast of NSW, is made up of Mummy (me, Sam), Daddy and our two little angels Noah and Annabelle. 
We hope your purchase brings you as much joy as I had in making it.
Sam xxx